Services & Programs
There are many services and programs that Children's Neurosurgical Associates offers in conjunction with UCSF Benioff Children's Hospital Oakland. The following is a list of some that may be of particular interest to you and your family.
Services
Clinical Social Services
The Clinical Social Services Department provides social work services, resource counseling, psychosocial assessments, and crisis counseling to patients and families.
Interpreter Services
Medical interpretation services for patients, families, and providers who are non-English speaking, deaf, or hearing-impaired are available 24 hours/7 days a week. Please ask for this service when making an appointment.
Child Life/Pre-Op Play
Child Life Services is a comprehensive therapeutic activities program designed to reduce the impact of stressful or traumatic life events and situations that affect the development, health, and well-being of infants, children, youth and families. Highly trained child life specialists engage children in pre-operative medical play, helping them "perform" the surgery on a doll and explaining step-by-step how the equipment works and what to expect.
Programs
Epilepsy Surgery
For children with seizures uncontrolled by medications alone, a range of surgical options are available. Focal brain resection, disconnection operations and vagal nerve stimulation are performed to control and at times eliminate the seizures completely. Pediatric Neurosurgery Brochure - Epilepsy PDF
Neuro-Oncology
The multi-disciplinary Neuro-Oncology team at UCSF Benioff Children's Hospital Oakland is a unique collaboration between Neurosurgery and eight other Children's Hospital departments. We are committed to providing the best comprehensive care possible to children with brain tumors. We are Northern California's only Head Start program as well as a Children's Oncology Group center. In the operating room, state of the art equipment and dedicated surgeons provide safe, maximal resection of brain tumors. Pediatric Neurosurgery Brochure - Brain Tumors PDF
Craniofacial

Center

The multi-disciplinary team at Children's Hospital offers comprehensive care to the child with craniosynostosis. An endoscopically assisted, minimally invasive approach is offered for infants with craniosynostosis. Pediatric Neurosurgery Brochure - Craniosynostosis PDF
Spasticity and Cerebral Palsy (
CP

)

The Peacock Center for Cerebral Palsy and Movement Disorders at Children's Hospital is the leader in the treatment of children with CP in Northern California . The center consists of a team of physical therapists, occupational therapists, pediatric orthopedists, pediatric neurosurgeons, and pediatric rehabilitation physicians. Damage to pathways of the brain in CP can result in stiff muscles that interfere with walking and movement. Neurosurgical procedures like selective dorsal rhizotomy and Baclofen pump placement in conjunction with orthopedic surgery and intensive inpatient therapy can improve comfort, care and function of children with cerebral palsy. Pediatric Neurosurgery Brochure - Peacock Center for Cerebral Palsy & Movement Disorders PDF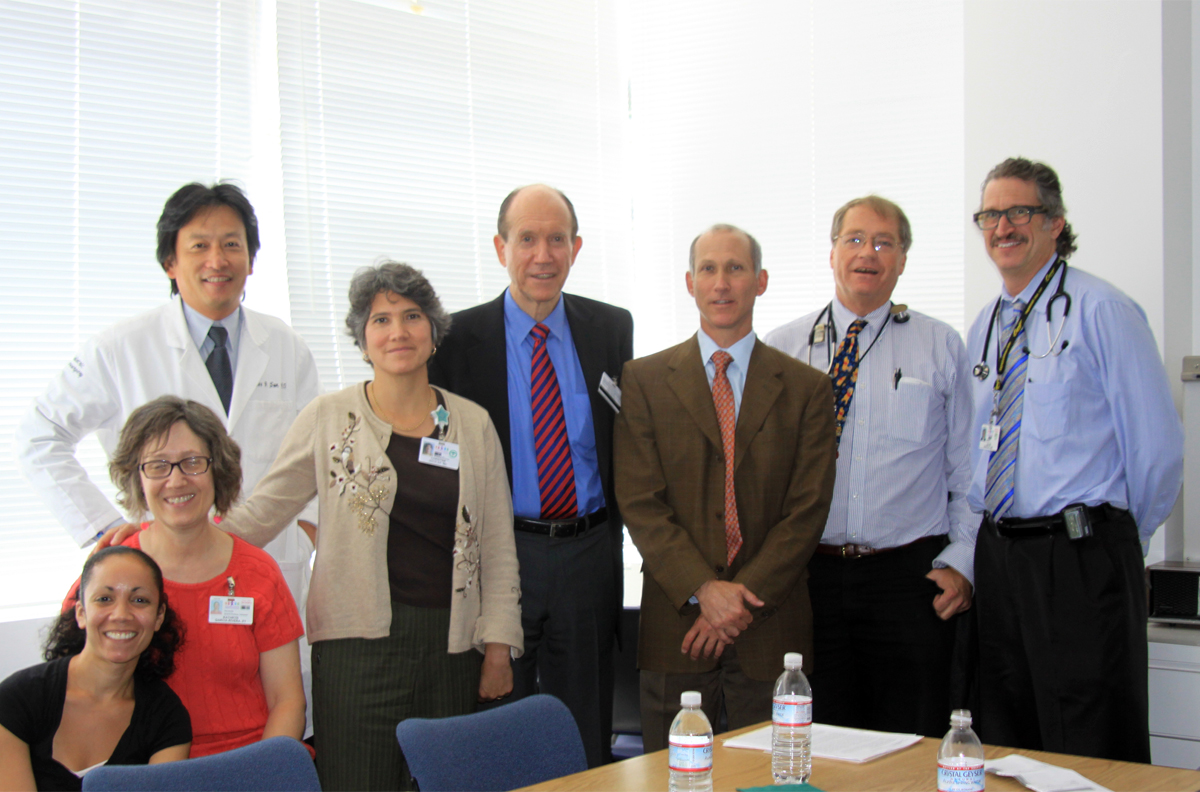 Renee Graham, Occupational Therapist; Kathryn Garcia-Rivera, Physical Therapist, Peter Sun, MD, Christina Aguilar, MD, Director of Pediatric Rehabilitation; Warwick Peacock, MD, Scott Hoffinger, MD, Robert Haining, MD Jacob Neufeld, MD
Center for Complex Pediatric Spinal Disorders
Complex spinal disorders in children require both an orthopedic spine surgeon and neurosurgeon to achieve the best, safest results. Dr. James Policy, MD, and Dr. Peter Sun, jointly evaluate patients with these conditions along with physiatrist Dr. Jacob Neufeld, MD, and Jessica Martin PT, in the Center for Complex Pediatric Spinal Disorders. The team works in a multidisciplinary fashion to provide excellent comprehensive care. For referrals call (800) 550-1529. Pediatric Neurosurgery Brochure - Spinal Disorders PDF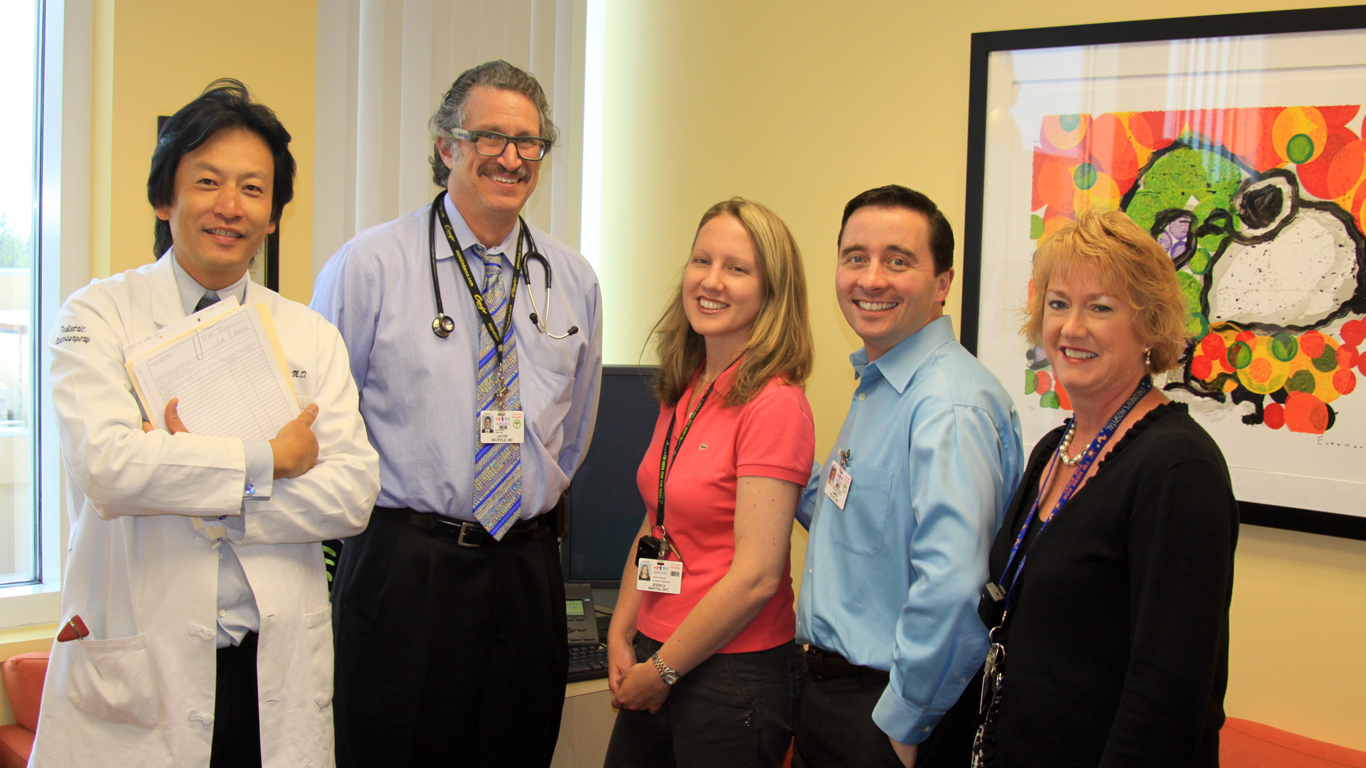 Peter Sun, MD, Jacob Neufeld, MD, Jessica Martin, PT, James Policy, MD, Marcie Humphrey, RN